Trip Overview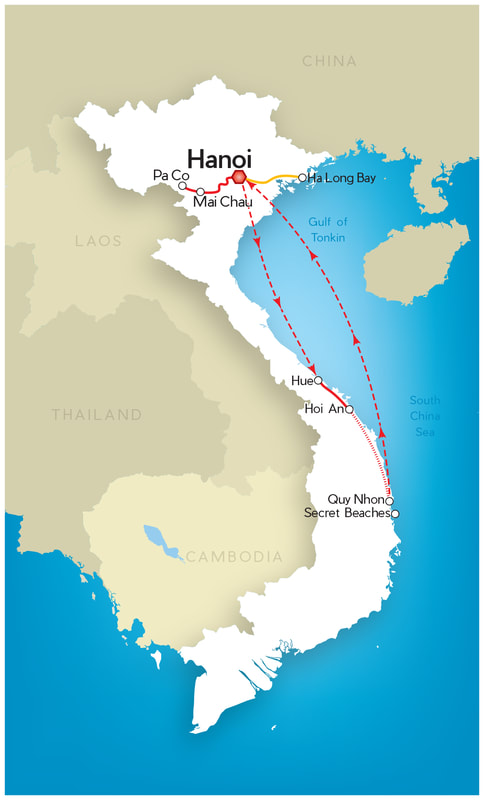 ​ This 15-day tour of Vietnam immerses you in a cultural adventure that you'll be talking about for many years to come. In it, you visit the homes of Hmong hill tribes where they teach you how to batik your own textiles; you ride a water buffalo and get hands-on planting rice in Hoi An; you row basket boats with local fisherman at our "secret beach" that's not yet mentioned in any guidebooks (there, you can also collect some of the most beautiful shells we've ever seen!); you can eat Tiger Lobster - the most sought-after and expensive fish in Southeast Asia - that is so fresh, my friend Muoi literally dives into the ocean to catch it for you; take a leisurely bike ride through charming villages untouched by tourism; marvel at beautiful silk lanterns in Hoi An (the whole town is one giant photo opp!) and watch silk worms at work; photograph the luscious green and gold rice fields and terraces at harvest time in the mountain-surrounded valley of Mai Chau; "wow!" at the views as we drive along the stunning Hai Van Pass overlooking the South China Sea; visit the UNESCO World Heritage Cham ruins of My Son; learn the symbolism for dragons, phoenix, unicorns, turtles and bats and how they are used to tell stories in temples and pagodas. These are just a few of the magical activities we have in store for you.
The Magical Vietnam Tour is a more budget-friendly version of the
Luxurious Vietnam Tour
. You still enjoy almost all of the same amazing adventures (see the slideshow on that page for additional photos of what you can expect) but you save money by staying in boutique hand-selected 3 star accommodation (versus the 4 and 5 star digs on the Luxury Tour), skipping the seaplane tour of Ha Long Bay, the Golden "2 Hands" Bridge, and having your tour max out at 10 guests instead of 8. Your accommodations will still be selectively chosen, clean, modern and well-located.
How about it? Are you ready the trip of a lifetime?
---
UPCOMING DEPARTURES
*ALL SPRING

2020 TOURS will be a special hybrid of the Luxury Tour and the Magical Tour

Mix of 4 star luxury and 3 star hand-selected boutique

accommodations, 8 people maximum and a visit to Vietnam's hottest sensation - the Golden "2 Hands" Bridge!

LGBTQ Tour - MAR 14-29, 2020

/
Mar 30-Apr 1 optional tour extension

All Women's Tour - Apr 4-19, 2020/

Apr 20 -22 optional tour extension

Open to Anyone - Apr 25- May 10, 2020

/
May 11-13 optional tour extension16 days From

$5310​

3 day

optional tour extension From $615

*single supplements for solo travelers:

16 day base tour

$805

3 day extension

$285
Itinerary (tap each tab for expanded itinerary)
ARRIVE IN HANOI
Arrive in Hanoi. I will personally greet each of you at the airport and either accompany you to our hotel or, if flight times require that I stay to greet other guests, I will escort you to a private vehicle which will drive you to our hotel.
Day 1 HANOI / Charmed by the Ancient Capital
Founded in 1010 as Thang Long, Hanoi's narrow tree-shaded streets are filled with lovely examples of French colonial architecture. Our first group lunch will introduce you to your fellow trip-mates and to one of Hanoi's famous dishes. Safely immerse yourself in the Old Quarter's comical and dizzying motorbike traffic as your cyclo (3-wheel bicycle taxi) driver wheels you through the charming narrow streets of the oldest part of the city. See where John McCain was held captive at fascinating Hoa Lo Prison and take in the beauty and peaceful atmosphere at the Temple of Literature, Vietnam's first national university. Dinner will be at one of Anthony Bourdain's favorite restaurants.
Day 2 - 3 MAI CHAU / Revel in Bucolic Country Life
We'll travel by van to Mai Chau, a peaceful verdant valley surrounded by mountains where we'll stay 3 nights. Wake up to the views of green rice fields outside your hotel room. Group activities are intentionally minimal during our stay here to allow you to adjust from your flight but mostly to adapt your pace of life to the tranquil speed of village life.
Enjoy a leisurely guided bike tour on flat terrain through several bucolic hamlets dotting Mai Chau's peaceful valley. Immerse yourself in the easy-going pace of life here as you observe farmers tending their rice fields, children playing and water buffalo wallowing in swimming holes. Watch hens raising their chicks; enjoy the soothing sounds of frogs croaking and ducks quacking. Watch a local White Thai man demonstrate how to weave a variety of baskets used in everyday life. They're so beautiful, most tourists view (and buy) them as souvenirs. You will receive one as gift to take home. Enjoy a delicious dinner cooked by one of my close friends who happens to be an amazing chef. She'll treat you to mouthwatering White Thai traditional dishes at her lovely house surrounded by verdant rice fields. Wind down the day with an entertaining performance of traditional ethnic dances.
Day 4 PA CO / Black Hmong Village Life
We travel 1 hour to a remote mountain village - a hidden gem undiscovered by others - to immerse ourselves in the culture of a Black Hmong tribe. Take a batik lesson and have the opportunity to batik your own brocade cloth! You'll particularly appreciate the material you're working on after you see a demonstration of traditional brocade weaving done by hand on a loom. You'll also see how the women dye the cloth with indigo and how the dye is made. We will leave your batiked cloth to be dyed. It will meet us back in Hanoi at the end of our trip for you to take home. You'll go on a fascinating guided tour of this very traditional village where you'll see hillside tea plantations, walk inside a traditional Black Hmong house and learn about its layout, observe a blacksmith forging traditional tools and visit the maker of musical instruments. Enjoy local Hmong delicacies in the home of two more of my dear friends. You'll be laughing and smiling as you're treated to a quite different performance of traditional Black Hmong dances - this time in a private home and with a group who will beg you to join in the fun.
Day 5 - 6 HANOI / Weird and Wonderful Spectacles
After a taste of country life, it's back to the city for a bit longer before we head south. You'll be hungry for lunch when we arrive which makes it a great time to go on a food tour! I've planned a special off the beaten path one for you which includes many of my favorites. And if you've already read about what an adventurous eater I am, don't worry. There are no fried crickets or other weird items today. Only deliciousness that everyone can enjoy.
Ho Chi Minh, hero of the country and known belovedly to the Vietnamese as "Uncle Ho," died in 1969. Inspired by the Russaian treatment of Lenin and Stalin, he was embalmed and his remains are kept on display in an airtight glass coffin for all eternity … or at least as long as the chemicals hold out. Marvel at this weird communist tradition as we visit his mausoleum. In the evening you'll enjoy a completely different kind of spectacle … the new must-see show in Hanoi: The Quintessence of Tonkin. The show takes place right on a real lake with stages that raise and lower so the performers seem to glide on water. Part light show, part ballet, part spectacle, this musical amazement celebrates the ancient culture of North Vietnam.
Day 7 - 9 HUE / Dragons, Phoenix, Unicorns and Emperors
Fly to Hue, the ancient imperial capital of Vietnam. Its palaces, temples, and tombs evoke its past grandeur as home to emperors and mandarins. Over our 3 days here, we'll visit the tomb of Khai Dinh, the last emperor to be buried in Vietnam as well as the Citadel, the former Imperial Palace. We'll also explore some hidden gems such as City of Ghosts and small village temples where you'll learn how to read and interpret the symbols of dragons, phoenix, bats and unicorns.
Day 10 - 13 HOI AN / Enchantment at Every Turn
We'll start the day with a drive over the stunning Hai Van Pass overlooking the South China Sea and enjoy a fresh seafood lunch at alluring Lang Co Beach. Then we'll arrive in Hoi An, an ancient town on the banks of the poetic Thu Bon River. Once a major Asian trading port from the 15th to the 19th centuries, the town is now a UNESCO World Heritage Site. Graceful, historic, poetic and charming are all words that aptly describe the atmosphere which remains just as it was in its very early days. Be prepared to be smitten. Hoi An is one giant photo opp!
We'll spend 3 magical days here. In addition to exploring exotic temples, markets and stately venerable homes in the Ancient Town, you'll visit a silk factory and learn how locals make silk thread from cocoons of silk worms. You'll have a whole new appreciation for rice farming after you plow a rice paddy with a water buffalo and plant and harvest rice yourself. You'll visit another UNESCO world heritage site - the famous Cham ruins of My Son, reclaimed from the devouring jungle 100 years ago by French hunters. Unlike most tourists, we'll visit them at sunrise before busloads arrive so you can experience the sacred energy that drew the Cham people to build their temples here.
Day 14 - 16 QUY NHON / Secret Beach Time in the Area
After all the past days' activities, wind down for a bit during 2 nights at one of the most laid back and scenic boutique hotels in all of Vietnam right on one of my "secret beaches." We'll travel by train to get there. In your own private train cabin, your window essentially becomes a 6 hour movie screen on which the enchantment of Vietnam unfolds. The next day is yours to do as you please. You'll have the option to row basket boats and do some preeminent shell collecting if that floats your boat (har har).
The next day is full one as we travel to another of my secret beaches. From the first beach, we'll travel by boat with my friends Mai and Muoi to their floating fish farm where they raise tiger lobster, Southeast Asia's most sought-after and expensive fish. If you'd like, you can have one for your lunch and Muoi will even put on his dive gear to go catch it for you! You'll see the interesting way these creatures are fed during your up close tour. Then Mai fixes a very special meal you won't soon forget. But save room!
After we leave Mai and Muoi we travel to the other secret beach and meet up with my monk friend, Master Thich Dao Thanh. He'll give you a tour of his pagoda, chat with you about Buddhism and then treat you to another unforgettable meal. It's entirely vegetarian but every plate contains mouth-wateringly delicious food that looks, tastes and has the texture of real meat! Finally, we board a flight back to Hanoi where we'll spend the night.
HANOI / Return Home
Those ending their tour today will have a free day in Hanoi until its time for your flight. A pre-arranged transport will take you to the airport for your flight home. If you'd like to stay an extra night in Hanoi for more shopping, exploration or if your flight doesn't leave until the next day, please let us know. We're happy to arrange an extra night at the hotel for you.
Itinerary for Optional 3 Day Tour Extension
Day 17 HANOI / More City Favorites
Enjoy your free morning. In the afternoon, you'll get to try one of my favorite Hanoi treats: coconut coffee in a cafe whose "communist chic" design recalls days of war-era paraphernalia, propaganda posters, vintage cameras and old newspapers. (They serve other versions of this delicious specialty if you don't drink coffee.) Then we'll go to one of my most cherished museums in the city: The Vietnamese Women's Museum. It's visually stimulating with a fascinating costume-heavy display on the many ethnic tribes of Vietnam. There's also a powerful, sobering exhibition on women's role in wartime and an exploration of the much-neglected subject of family life and maternity.
Day 18 HA LONG BAY / Cruising Through a Classic Photograph
Today's the day you've waited for! After a quick ride to Ha Long Bay, you'll board your overnight cruise ship and set sail amid the scenes in those photos you've been eyeing for so long on the internet. In addition to savoring the surreal scenery in the bay, you'll also have options to explore a beautiful cave, visit a pearl farm and go squid fishing during your overnight cruise.
Day 19 HA LONG BAY and HANOI / Wrapping up the Trip of a Lifetime
You'll continue on your cruise throughout the morning, finally deboarding at noon. Return to Hanoi and enjoy some free time. Roam the quaint Old Quarter, enjoy some shopping or just kick back and relax. Say your goodbyes to fellow trip-mates over a farewell group dinner. Transports are included to take you from the hotel to the airport to catch your flight home. If you'd like to stay an extra night in Hanoi for more shopping, exploration or if your flight doesn't leave until the next day, please let us know. We're happy to arrange an extra night at the hotel for you.