Trip Overview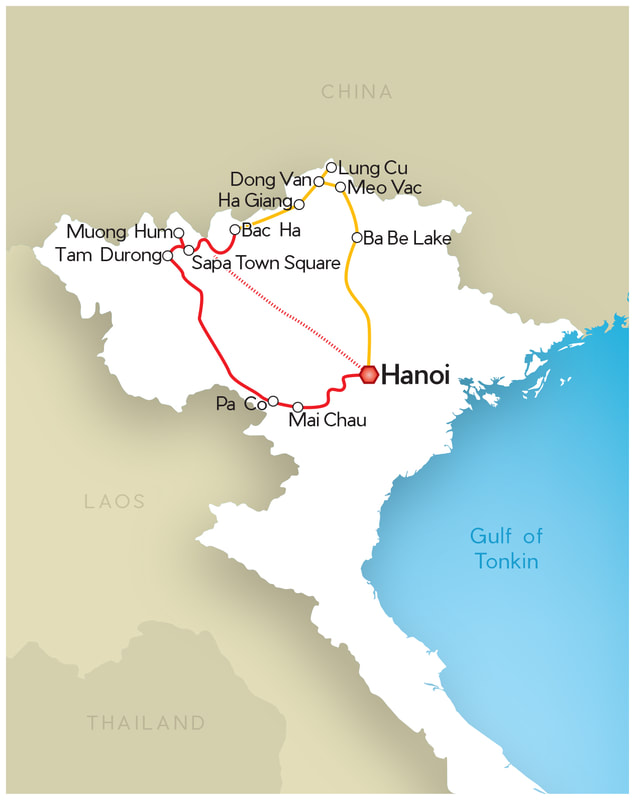 ​ Once upon a time ... this trip description could easily start this way because when you're on this tour, you'll feel like you are stepping back in time hundreds of years. And the scenery is nothing short of a fairy tale. Amid the stunningly scenic plush mountain territory of North Vietnam along the Chinese borders, we will be visiting 7 of Vietnam's 54 ethnic tribes. The majority of these tribal groups (referred to as "minorities" by the Vietnamese) still live in traditional rural villages in wood or mud huts and houses on stilts, some still with thatched roofs. Many still wear traditional, brightly colored handmade clothing, unique to each tribe, that are simply exquisite examples of textile art showcasing masterful skills such as embroidery, appliqué and batik among others.
The tapestry of culture is exceedingly rich among these groups. You'll be mesmerized by their beautiful clothing and hypnotized by the bucolic life of farming and fishing while chickens, ducks, pigs and goats wander free range around every home and even on main roads. You'll be captivated by their shamanistic spiritual practices and astounded at many of the strange-to-us customs like "wife pulling" where a boy claims a wife by kidnapping a girl to his home where she lives for 3 days and then decides if she'll stay.
Their lives are likely 180 degrees different from anything you've experienced. And, as with all my tours, I've developed strong relationships with people in many of these groups so that when you travel with me, you'll be welcomed with open arms and ushered right into the kitchens where you'll sit around the fire and learn about these fascinating cultures. And as a bonus, the mountain landscapes in which these groups live is some of the most stunning and unbelievably beautiful in the world. Between the two, I promise you will return with astounding photographs and even better stories.
But the time to come visit these groups is now. Younger generations are eschewing the cultural dress and other tribal traditions as they trade village life for modern life in the bigger cities. In many villages, even the older people are abandoning traditional clothes in favor of western attire which is cheap to buy and easy to wear. Thatched roofs are being replaced by fiberglass and metal ones. Concrete is being favored to traditional wood and mud for walls of homes. The iconic conical hats of Vietnam are giving way to helmets as motorbikes become more plentiful. In short, life is changing quickly there and while no one can begrudge a roof that lasts forever, education instead of toiling in the fields and more rapid transportation, all of this progress means your other-world photo opps are rapidly disappearing. Chose the tour date that works best for you and sign up today so you don't miss out.
---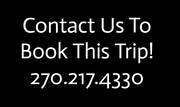 UPCOMING DEPARTURES
Itinerary (tap each tab for expanded itinerary)
ARRIVE IN HANOI
Arrive in Hanoi. I will personally greet each of you at the airport and either accompany you to our hotel or, if flight times require that I stay to greet other guests, I will escort you to a private vehicle which will drive you to our hotel.
Day 1 HANOI / Ethnic Culture Introduction
Get a taste of what's to come! Start your ethnic education with a guided tour of the Museum of Ethnology. In the evening, you'll attend the jaw dropping Quintessence of Tonkin show. Set on a stage of water, it is part ballet /part light show and highlights the culture of Vietnam's northern ethnic minorities from ancient times.
Day 2-3 MAI CHAU / Revel in Bucolic Country Life
Enjoy a leisurely guided bike tour on flat terrain through several bucolic hamlets dotting Mai Chau's peaceful valley. Immerse yourself in the slow and peaceful pace of village life here as you observe farmers tending their rice fields, children playing and water buffalo wallowing in swimming holes, watch hens raising their chicks, enjoy the soothing sounds of frogs croaking and ducks quacking. Watch a local White Thai man demonstrate how to weave a variety of fishing baskets used in everyday life here. They're so beautiful, most tourists view (and buy!) them as souvenirs. You will receive one as gift to take home. Enjoy a delicious dinner cooked by one of my close friends who happens to be an amazing chef. She'll treat you to mouthwatering White Thai traditional dishes at her lovely house surrounded by verdant rice fields. Wind down the day relaxing and watching an entertaining performance of traditional ethnic dances.
Day 4 PA CO / Black Hmong Village Life
We travel 1 hour to a remote mountain village - a hidden gem undiscovered by others - to immerse ourselves in the culture of a Black Hmong tribe. Take a batik lesson and have the opportunity to batik your own brocade cloth! You'll particularly appreciate the material you're working on after you see a demonstration of traditional brocade weaving done by hand on a loom. You'll also see how the women dye the cloth with indigo and how the dye is made. We will leave your batiked cloth to be dyed. It will meet us back in Hanoi at the end of our trip for you to take home. You'll go on a fascinating guided tour of this very traditional village where you'll see hillside tea plantations, walk inside a traditional Black Hmong house and learn about its layout, observe a blacksmith forging traditional tools and visit the maker of musical instruments. Enjoy local Hmong delicacies in the home of two more of my dear friends. You'll be laughing and smiling as you're treated to a quite different performance of traditional Black Hmong dances - this time in a private home and with a group who will beg you to join in the fun.
Day 5-6 TAM DUONG / Iconic Rice Terraces and Unique Tribal Headgear
Pass through beautiful scenery on our travel day to Tam Duong. Once we arrive, you'll want your camera out for our visit to some iconic rice terraces. After our photoshoot, we'll visit the Dao Dong Van ethnic group and admire the incredibly unique headwear of the women made from coils of braided horsehair and topped with a silver box. Enjoy a demonstration of a very talented local woman making not only those headpieces, but also the gorgeous hand sewn male shaman's hats (also made out of horsehair) and utterly exquisite shaman's robes. You'll have an opportunity to take any of these items home with you. Again, we'll dine with locals - our hat-making hosts will treat us to lunch in their home. Get some exercise on an optional afternoon hike to a truly beautiful waterfall (and that's saying a lot because I'm not a "waterfall person.")
Day 7 TRAM TON PASS & MUONG HUM / Stunning Scenery
Attend the small but colorful weekly Tam Duong Market and admire the traditional clothing of tribes down from their mountain villages to buy, sell and trade. Visit an energetic and fun-loving Lao Lu family in their traditional village. Watch a woman blacken her teeth in the traditional manner. Get a quick handicraft lesson and see some of their dances. We will join them for lunch. Drive to Muong Hum and see the amazing "mushroom houses" of the Ha Nhi tribe. We'll visit with a family in their traditional house while they tell us about their culture and model the exquisite woman's headdress … a braid the height of a person is wound around the woman's head and finished with giant hand-sewn pompoms! They'll also tell you about the spiritual significance of the hats made by the grandmothers and worn by the children. You will receive one of these eye-catching hats to take home. I bet this will be one of your favorites from the trip! Drive over the stunning Tram Ton Pass to Sapa. This pass is Viet Nam's highest mountain pass and considered the second most beautiful stretch of road in the country. (The most beautiful, the Ma Pi Leng Pass, will be traversed on the optional extension to this tour. And trust me, you don't want to miss it!)
Day 8 SAPA / Red Dao Herbal Bath and Wedding
The Red Dao people are some of my very favorite in all of Vietnam and Mon May, pictured on the Home page, is one of my very best friends. Today, she'll take us to her village and give you the skinny about every aspect of local life. The Red Dao women know the medicinal properties of herbs, bark and roots. Their embroidery skills are talked of throughout Vietnam and their weddings are the most beautiful to behold. Today, you'll get to experience all of these! Let all your cares drift away as you enjoy a hot soak in a famous Red Dao herbal bath while looking out over green rice terraces and listening to a creek babble below. Taking an introductory embroidery class will help you appreciate what goes into the textiles you see throughout our tour. It will also sharpen your bargaining skills as you learn to distinguish authentic pieces from ones cranked out for tourists. We'll also enjoy a meal with Mon May and her delightful family where you'll learn how to say "cheers" in Red Dao language while playing their fun "chicken mouth drinking game." To cap off your day, you'll get to see one of those stunning Red Dao weddings in person!
Day 9 SAPA / More Iconic Rice Terraces and Black Hmong Shamanism
Today is the day when you get to see the most stunning rice terraces you'll ever see (June is planting season and September is harvest time so people will be out working in them and they'll be very pretty). We'll tour 2 Black Hmong villages, one of which is still very traditional. In the other village, we'll visit a Black Hmong shaman. You will get to see a shaman altar and learn all about the fascinating practice of shamanism which is very active in the Hmong ethnic community. Once again, you'll be treated to traditional local foods as we dine with a local Hmong family. In the late afternoon, we'll take the scenic drive to Bac Ha for their market the next day.
Day 10 BAC HA / Brilliantly Colorful Market
This morning we'll be up-and-at-em early to attend the famous and colorful Bac Ha Market. A great number of ethnic tribes travel here from their remote mountain villages to attend this market and you'll get to see quite a variety of handicrafts, textiles, foods, fruits and vegetables that will likely be new to you. It's a morning of "Wow! Look at that!" everywhere you turn your head. In addition to all these new things are the people in their traditional ethnic clothes. The costumes worn by the Flower Hmong women are especially gorgeous. After the market and lunch, we'll return to Sapa and you'll have the rest of the afternoon free.
Day 11 SAPA / Enter the Heavens Via Fansipan Mountain
Prepare for a breathtaking ride on one of the most beautiful cable car trips you'll ever experience as you head up to the summit of Fansipan Mountain, Vietnam's tallest peak. During the ride you'll cross over a valley of rice fields that make for very memorable photos. Enjoy some free time shopping and exploring Sapa on your own for the rest of the day.
For those who do not choose to take the optional 6 day extension trip, you'll travel to Lao Cai where you'll take the overnight train back to Hanoi.
Day 12 HANOI / Return Home
Those ending their tour today will have a free day in Hanoi until its time for your flight. A pre-arranged transport will take you to the airport for your flight home.
Itinerary for Optional Tour Extension
Day 12-13 HA GIANG PROVINCE / Stunning Scenery on the Way to Vietnam's Most Remote Province
You won't believe these views are real! On day 2 of our travel to Ha Giang, enjoy a morning at leisure at our riverside resort hotel. Soak in your private outdoor tub, take a dip in the hotel pool or just stroll through their gorgeous meandering gardens. We'll enjoy exquisite mountain scenery as we drive from Ha Giang City to Dong Van, stopping at the former palace of a Hmong King on the way. Relax and enjoy some free time for the rest of your afternoon and evening.
Day 14 LUNG CU / A Day of Magic From Morning to Night
Today is a BIG day full of fabulousness! Keep your camera out throughout! After breakfast, we take a short drive through more stunning mountain scenery to arrive in the village of Ma Le. We'll visit a house that is 300 years old, tour a quaint traditional village and and watch a bread making demonstration using a giant 12 foot long mortar and pestle!
Then we travel to Lung Cu to meet the LoLo tribe, renowned throughout Vietnam as having the hands-down-most-stunning traditional clothing around. We'll visit with the village chief and his wife, good friends of mine. They're amazing cooks and we have the privilege of enjoying lunch with them. Once again, you'll learn how to say "cheers" in a new language as they toast us with corn wine. They'll tell us about LoLo culture and then you're in for one of the biggest treats of the trip … the private performance of two traditional dances that will knock your socks off!
After leaving our LoLo friends, we'll visit one more village … a very traditional White Hmong village where you'll be immersed in village life. Despite having visited other villages, you'll still find a lot here that's new to you … including the highlight of our afternoon with them … a Hu Plig demonstration! This is a soul-calling ceremony performed by a shaman. It's utterly fascinating! On our way back to the hotel you can walk up to the Chinese border and get your photo standing on Vietnamese soil with China in the background.
Day 15 / MA PI LENG PASS / Vietnam's Most Beautiful Drive
Another huge trip highlight today … today we drive over the Ma Pi Leng Pass, the MOST beautiful stretch of road in the country; arguably one of the most beautiful drives in all the world. It's so beautiful, you truly won't believe your eyes. I drove it 3 times back to back in one day on my motorbike struggling to take in its scope.
Day 16-17 BA BE LAKE / Lake Tranquility
Enjoy yet more stunning scenery as we drive to Ba Be Lake. Relax and enjoy a leisurely day on Ba Be Lake including a slow moving boat trip. Lots of free time to relax and enjoy nature here.
Day 18 HANOI / Wrapping Up the Trip of a Lifetime
Return to Hanoi. Roam the quaint Old Quarter, enjoy some shopping or just kick back and relax. We'll have a farewell group dinner. Transports are included to take you from the hotel to the airport to catch your flight home.