Open Door Travel ...
Opening Doors for You All Over the World
At Open Door Travel we have 3 abiding philosophies regarding travel:

Go beyond the expected and experience something unique.
Travel in truly small groups to maximize the immersive aspect of the experience.
Be ethical travelers. Give back to the community.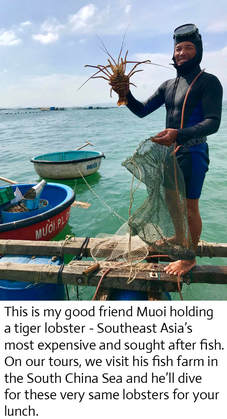 Unique Off the Beaten Path Experiences - When you travel half way around the world, naturally you want to experience the iconic destinations and we definitely take you there. But where other tours stop at that basic checklist, we're just getting started. We draw from our decades long friendships and knowledge of the area to take you into local homes for meals and cultural interactions, to see weddings, to get knee deep in a rice paddy plowing it with a water buffalo. We don't just take you to the temple; you share an unforgettable vegetarian meal with the monk. We create tours in unique places that haven't even made the guidebooks yet. When you travel with us, you get the same access as if YOU had been the one traveling here for over 10 years. This is what makes our tours an experience of a lifetime.
---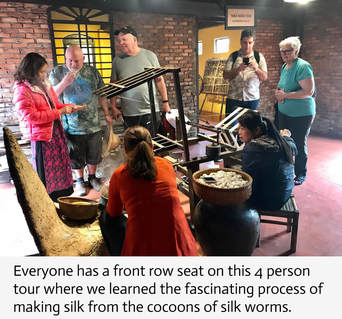 Truly Small Group Tours - Many travel companies say they offer small group tours … but they start at 10 guests per tour and allow up to 16, 22 or even 35 guests on a tour! Would you consider any of those numbers small if you were having a dinner party? We don't either. Small groups are imperative for intimate experiences with local people to really immerse yourself in local culture. And because we limit our tours to 8 guests, we can go places and access experiences that are impossible for other travel companies to replicate. And when we get there, you never have to jostle to have a view of the action.
---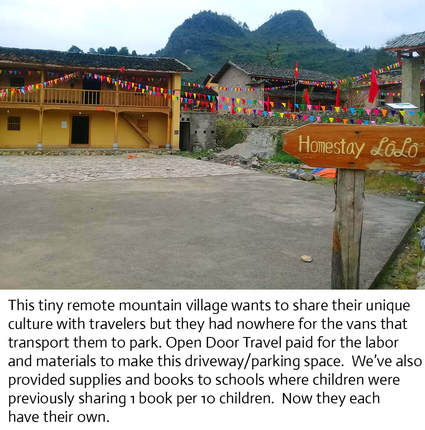 Giving Back - The people and places we visit on our tours provide our guests with experiences of a lifetime. Because of this, we at Open Door believe it's crucial as ethical travelers not just to take what serves us but also to give back; to say "Thank you." We do this for many reasons including sustainability of the culture we experience and celebrate, but mostly because it's the right thing to do. 5% of our tour guide fees from every tour are donated back to local communities in Vietnam. We primarily support schools and educational pursuits, but sometimes help improve the infrastructure of villages and homes. Because we give back, you can feel good about traveling with us.
---
---
Beverly Hayden: Tour Curator, Tour Leader
​and founder of Open Door Travel

In 2008, I enriched my life dramatically when I started traveling to Vietnam and Southeast Asia. I bought a motorbike that was a Chinese knock-off of a Honda and named it the Fonda, a contraction of Fake and Honda. It also perfectly reminisced of Jane Fonda's time in Vietnam. The Fonda was a pile-of-rubbish motorbike requiring mechanical service every other day for several months as I drove it from Hanoi to Ho Chi Minh City. I stayed off the main roads and traveled almost exclusively through small villages learning Vietnamese as I went; stopping whenever I found something interesting, was invited in for a meal or the Fonda broke down.
During my travels, I climbed mountains in Ha Long Bay; soaked in an herbal bath made from leaves, roots and bark harvested from the forest by my knowledgable Red Dao friend; I irrigated rice paddies by hand with local farmers and helped them plow their fields with water buffalo; I received an impromptu invitation to a wedding and when I arrived, was made the guest of honor; I was taught to row those little round woven fishing boats.

I ate spider legs, any number of fried insects, congealed goat's blood and drank rice wine infused with goat penis. I also ate the most delicious Vietnamese food ever. In other words, I love to adventure FAR off the beaten path and in doing so, I've discovered some incredibly unique people, places and experiences that I'd love to share with you … sans fried insects and organ-infused rice wine.

Before these adventures, I was an attorney in Nashville for 7 years. I fled those prison-like offices to live in San Miguel de Allende, Mexico where I studied Spanish and the art of making margaritas. I ultimately returned to the US and have spent the past 15 years, when not traveling abroad, traveling around the US exhibiting and selling my mixed media art work. Because of these experiences, in addition to my skills at finding great adventures, I also bring to this company my organizational abilities and attention to detail from my years of practicing law and, from my years as a professional artist, my keen eye for aesthetic beauty in the form of great photo opps and occasions to learn about and collect fantastic art while you're on your trip. I'm delighted that you're considering adventuring with me. I look forward to creating and leading you on the experience of a lifetime.